Shiba Tatsuya's Powers and Abilities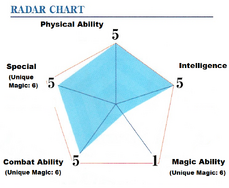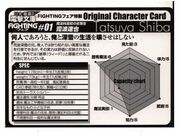 By his own admission, Tatsuya specializes in combat and assassinations,[1] especially in long-ranged combat.[2] Nonetheless, Tatsuya has a variety of different skills and abilities that make him a formidable foe.
Physical Abilities
Physically, having trained with Yotsuba combat magicians since he was six years old[3] and with Yakumo and the 101 Independent Magic-Equipped Battalion in his preteens & teens, it is said that Tatsuya is second to none and is evaluated to be a master class fighter.[4] Despite being best at long-ranged combat, he is almost unmatched in close combat, due to his physical abilities. His physical abilities are so great that even without the use of magic he can even match magicians using magic to enhance their physical abilities.
Tatsuya is a student of Kokonoe Yakumo, a famous ninjutsu user and someone who passes on traditional shinobi [Notes 1] magic know-how.[5] Due to this, he can handle multiple opponents at once and emerge unscathed. Tatsuya's physical abilities surpass normal magicians, who usually just rely on magic to accelerate or fortify their bodies to prevent injuries. It is also thanks to his training that Tatsuya can sense dangerous and hidden presences without relying on his unique magic, Elemental Sight. Yakumo himself has said, "It's possible that I'm unable to beat Tatsuya-kun in pure martial arts already..."[5] thus proving his physical prowess. Before his present age Tatsuya had learned enough techniques to be considered a master or something close. Through his ninjutsu training, he is a master of chi utilization.
Magic Abilities
From a conventional magic standpoint, while Tatsuya's casting speed for complex systematic spells is slow, among introduced characters, due to his slow, artificial Magic Calculation Area (MCA), Tatsuya has the highest known Psion count, giving him access to the rare Gram Demolition counter magic and high magical endurance. Tatsuya's intellect and understanding of magic on a theoretical level also allow him to use magic in ways that no one else does. However, Tatsuya is not limited to using his artificial MCA.
Prejudices aside, the abilities that he has had since birth allows him to excel in combat and assassinations and makes him a balanced fighter. Tatsuya's magical abilities and talents give him the greatest advantage in long-range magic. It has been stated that Tatsuya excels in extreme long-distance precision attacks and over the horizon (OTH) sniping, and can easily snipe human targets from a range roughly distanced at 1200 meters. It is indirectly implied throughout the series, that his OTH magical sniping gives him the greatest attack range in the magical community.[2]
➨ Supernatural Power User
Tatsuya is a Supernatural Power User. As a Supernatural Power User, Tatsuya can apply his Psions to directly cause phenomena through will alone. Because this is done without an Activation Sequence, he gains overwhelming speed while sacrificing the versatility of systematic magic. Despite the fact that Supernatural Powers and Magic are one and the same, differing only in the usage of developed Sequences, it is not considered to be "magic" by Magician society. It is because of this strange prejudice that he hides his abilities.
"
"From a fundamental perspective, magic and super powers are one and the same. Onii-sama knows this better than anyone else when it comes down to theory or practical application."
"

—Shiba Miyuki broaching the subject of Magicians and Parasites, Visitor Chapter (III), Chapter 15
Despite being a Superpower user, Tatsuya prefers to use a specialized CAD because it is easier and less "tiresome", being a more efficient conduit for Psions, particularly when utilizing Loop Casting. This is hinted at from very first chapter of the first light novel when it mentions that even Supernatural Power Users prefer CADs for their speed and stability.
Tatsuya's status as a Supernatural Power User is hinted at in later books, particularly when it is revealed in Reminiscence that he used Mist Dispersion on torpedoes without a CAD faster than Sakurai Honami could cast any magic with her CAD. It is also mentioned during the banquet night of the Nine Schools Competition that when Tatsuya is using his innate magic without a CAD, he is equal to any Magician using a CAD.
➨ Born-Specialized Magician
Tatsuya can perhaps be considered a type of Born-Specialized Magician (BS Magician). However, instead of only having one specialized type of magic, he has at least three types of highly-specialized types of magic: Decomposition, Elemental Sight, and Regrowth. The first is considered difficult and high-class while the second and third are unknown to the world at large. Owing to this circumstance, his natural Magic Calculation Area is dominated by these types of magic, particularly Decomposition and Regrowth, rendering him unable to wield other types of Systematic Magic without his artificial MCA.
While Tatsuya's innate abilities are undoubtedly powerful, strictly speaking, at least according to the Yotsuba Family and international standards, they are not "magic", which involves the altering of Eidos instead of simply breaking down and restoring Eidos. His abilities are thus noted by others that know as being more akin to superpowers. This is the main reason why the Yotsuba family treats him as an outcast or a fake Magician and why enemies tend to consider him to be a "monster".
➨ Types of Innate Magic Used By Tatsuya
"
An oscillation wave composed of psions permeated the female servitor through the palm, temporarily canceling the psion barrier enveloping the Parasite's main body and revealing the spell that connected the Parasite and the doll.

(Replication complete.) Tatsuya used the concept of Restoration Magic to replicate the spell. [...] Tatsuya used Restoration Magic. This magic replicated a previous Eidos and imprinted the replicated Eidos onto the current one. This was not restricted to physical properties of the Eidos. So long as this Eidos was crafted with psions, this method could be used to replicate and imprint.

"

—Tatsuya using selective Regrowth to reseal the Paranormal Parasite, Volume 13, Chapter 7
➨ Systematic Magic
In order to allow Tatsuya to use Systematic Magic, instead of just his Supernatural Powers, his mother and her twin sister operated on Tatsuya when he was 6 years old, installing another Magic Calculation Area or Magic Processor (resulting in him having two) in his mind. This allowed him to use "real" magic. However, the artificial processor is inferior to the natural processor in multiple ways.[17] Tatsuya's invocation speed, the scale of the Magic Sequence, and phenomena rewriting ability--the metrics used to rate magicians internationally and at First High School[18]--are considered inferior to most magicians at First High and barely passing as practical magic ability. For example, Tatsuya's invocation speed is at least four times slower than Miyuki's, meaning that most forms of complex magic take unacceptable amounts of time for Tatsuya to accomplish. To that extent, the Yotsuba considered Tatsuya to be both a fake and incompetent Magician.
➨ Non-Systematic Magic & Counter Magic
Non-Systematic Magic aims to manipulate the Psions themselves rather than altering Eidos using the Psions.[23] Therefore, the limitations of Tatsuya's artificial magic processor (mainly the lack of processing speed in altering Eidos) do not apply. This is probably the reason why Tatsuya so often relies on Non-Systematic Magic. Unfortunately, while Non-Systematic Magic is called magic, it is usually only sufficient for combat as distractions, interferences, or traps and not for creating a phenomenon.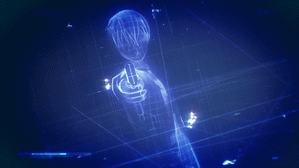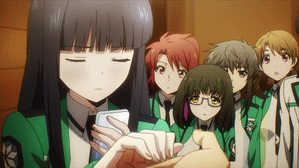 Most forms of counter magic are categorized under Non-Systematic Magic, as they are techniques that directly manipulate Eidos itself and not the phenomenon-altering mechanism of Eidos. Tatsuya excels in counter magic and has even developed techniques himself.
Ironically, while Tatsuya can be considered a counter magic specialist, he is even better at countering counter magic. Most means of counter magic either involve Cast Jamming via Antinite or relying on Zone Interference to prevent the other magician from casting. Cast Jamming relies on steady but meaningless waves of Psions to create "background noise," greatly disrupting the spell invocation speed to the point that the spell cannot be cast. However, this Psion wave can either be blown away with Gram Demolition or disassembled with Gram Dispersion or Decomposition as even Psion waves have structure. He can decompose Zone Interference, as stated when he uses Trident. Moreover, Zone Interference does absolutely nothing to prevent Non-Systematic Magic.
Magic Engineering
Tatsuya has shown a genius-level intellect and ability to create new magic sequences and software in CADs. He spreads his innovative ideas about magic under the name Taurus Silver, which is known throughout the magical community around the world. His innovative ideas have given the name "Taurus Silver" immense fame because he is called the genius engineer that advanced CAD software technology by ten years within one short year.[34]
His skill is shown in the Nine Schools Competition when all the players under his charge swept their events. He was able to come up with new types of magic,[35] apply state-of-the-art technology,[6] reconfigure dozens of Ancient Magic spells into a more efficient form of modern magic within one hour[36] (even basic configuration of CADs would take three hours), creating a weaponized CAD completely from scratch,[6] and program & streamline A-rank magic spells to help his players win.[36] His skills were so great that Masaki called Tatsuya a "monster" at magic engineering and Kichijouji speculated that Third High School would be using equipment that was two or three generations behind First High School.[35] Student engineers from other schools at the competition ironically compared Tatsuya to Taurus Silver.[36] Ultimately, First High School had to create a Magic Engineering Course just so that Tatsuya would not be listed as a Course 2 student (which would look bad for the school's curriculum and assessment method).[37]
It has also been suggested that Tatsuya has been able to discover and use all 16 Cardinal Codes. The Cardinal Codes is the name for the 16 fundamental Magic Sequences within the 'Cardinal Code Hypothesis'. This theory states that there are 16 fundamental Magic Sequences, from the Eight Major Types of Magic with the corresponding positive and negative poles. The theory states that any magic from the Four Great Systems and Eight Major Types of Magic can be recreated using various combinations. To date, only one Cardinal Code has been publicized and other magic engineers have spent their lives trying to discover these Cardinal Codes.
Nonetheless, if he does know them, Tatsuya doesn't appear to be interested in releasing the Cardinal Codes to the public, perhaps because Tatsuya knows that the Cardinal Code Hypothesis is incorrect. According to Tatsuya, there is magic within the Four Great Systems that cannot be recreated using the Cardinal Codes. The Cardinal Codes do exist as building blocks for magic, but not every magic can be recreated using just the Cardinal Codes.[6]
➨ Discovered & Invented Magic Spells or Concepts
Notes
↑

A covert agent, synonymous to ninjas
References
Community content is available under
CC-BY-SA
unless otherwise noted.