Mahouka Koukou no Rettousei (魔法科高校の劣等生 lit. "The Poor Performing Student of a Magic High School) is an anime series produced by Madhouse that premiered on April 5, 2014. It covers six of the first seven volumes of the light novel series. It is simulcasted by Crunchyroll and has been licensed for streaming by Aniplex of America.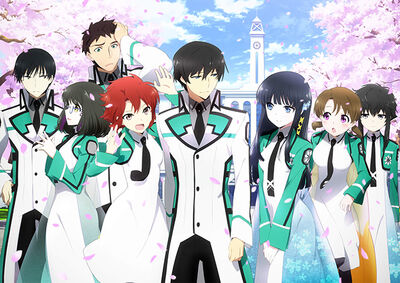 The first opening theme is Rising Hope by LiSA, and the first ending theme is "Millenario." by Elisa. The second opening theme is grilletto by GARNiDELiA, and the second ending theme is Mirror by Rei Yasuda.
A series of super deformed animated introduction videos titled Mahouka for Dummies began streaming on the official website on February 22, 2014.
PV & Cast
Cast
PV
https://www.youtube.com/watch?v=0wASmvsfFyM
https://www.youtube.com/watch?v=sKLqe5KOoRs
Episode List
Episode List
No.
Title
Air Date
1
"Enrollment Chapter I"
"Nyūgaku-hen I" (入学編 I)
April 5, 2014
2
"Enrollment Chapter II"
"Nyūgaku-hen II" (入学編 II)
April 12, 2014
3
"Enrollment Chapter III"
"Nyūgaku-hen III" (入学編 III)
April 19, 2014
4
"Enrollment Chapter IV"
"Nyūgaku-hen IV" (入学編 IV)
April 26, 2014
5
"Enrollment Chapter V"
"Nyūgaku-hen V" (入学編 V)
May 3, 2014
6
"Enrollment Chapter VI"
"Nyūgaku-hen VI" (入学編 VI)
May 10, 2014
7
"Enrollment Chapter VII"
"Nyūgaku-hen VII" (入学編 VII)
May 17, 2014
8
"Nine Schools Competition I"
"Kyūkōsen-hen I" (九校戦編 I)
May 24, 2014
9
"Nine Schools Competition II"
"Kyūkōsen-hen II" (九校戦編 II)
May 31, 2014
10
"Nine Schools Competition III"
"Kyūkōsen-hen III" (九校戦編 III)
June 7, 2014
11
"Nine Schools Competition IV"
"Kyūkōsen-hen IV" (九校戦編 IV)
June 14, 2014
12
"Nine Schools Competition V"
"Kyūkōsen-hen V" (九校戦編 V)
June 21, 2014
13
"Nine Schools Competition VI"
"Kyūkōsen-hen VI" (九校戦編 VI)
June 28, 2014
14
"Nine Schools Competition VII"
"Kyūkōsen-hen VII" (九校戦編 VII)
July 5, 2014
15
"Nine Schools Competition VIII"
"Kyūkōsen-hen VIII" (九校戦編 VIII)
July 12, 2014
16
"Nine Schools Competition IX"
"Kyūkōsen-hen IX" (九校戦編 IX)
July 19, 2014
17
"Nine Schools Competition X"
"Kyūkōsen-hen X" (九校戦編 X)
July 26, 2014
18
"Nine Schools Competition XI"
"Kyūkōsen-hen XI" (九校戦編 XI)
August 2, 2014
19
"Yokohama Disturbance I"
"Yokohama Sōran-hen I" (横浜騒乱編 I)
August 9, 2014
20
"Yokohama Disturbance II"
"Yokohama Sōran-hen II" (横浜騒乱編 II)
August 16, 2014
21
"Yokohama Disturbance III"
"Yokohama Sōran-hen III" (横浜騒乱編 III)
August 23, 2014
22
"Yokohama Disturbance IV"
"Yokohama Sōran-hen IV" (横浜騒乱編 IV)
August 30, 2014
23
"Yokohama Disturbance V"
"Yokohama Sōran-hen V" (横浜騒乱編 V)
September 6, 2014
24
"Yokohama Disturbance VI"
"Yokohama Sōran-hen VI" (横浜騒乱編 VI)
September 13, 2014
25
"Yokohama Disturbance VII"
"Yokohama Sōran-hen VII" (横浜騒乱編 VII)
September 20, 2014
26
"Yokohama Disturbance VIII"
"Yokohama Sōran-hen VIII" (横浜騒乱編 VIII)
September 27, 2014
External Links
Japanese Animes Website: www.mahouka.jp
Crunchyroll's Page: http://www.crunchyroll.ca/the-irregular-at-magic-high-school